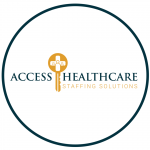 Website https://twitter.com/access_staffing Access Healthcare Staffing Solution
Locums need in western Arkansas for 13 week assignment.
– up to $200/hr + travel/lodging.  Malpractice available.
– Call bonuses, Overtime rate
– GET PAID WEEKLY! No waiting for hospital to reimburse you.
Locum CRNA needed.
– 9am to 530pm shift or 0630 – 3 pm shift
– 4 weeks to credential, start as soon as credentialed
– Regional skills preferred, but will train to do U/S guided regional blocks.
– The CRNA preops, plans and implements their own anesthesia. MDA's are available for back up and resources.
– Mainly B&B cases with neuro, light vascular, healthy peds, endo and ASC cases.
– No cardiac or OB.
– This anesthesia practice was incorporated in 1991 and currently has an exclusive contract with the hospital. You will join one of the top hospitals in Western Arkansas in a stable work environment.
– They are seeking professional CRNA's who are comfortable working in a fast paced environment, with the ability to be autonomous.
– The area around the hospital has one of the lowest cost of livings in the country with plenty of outdoor activities, concerts and social events. You have the option to either live in an city atmosphere or in a rural setting while still close to work.
– Local University and 1 hour from Fayetteville
– Great job for new grads or experienced providers who like to practice independently
– Driving Distance to Ozark Mountains and many larger cities
We would appreciate your business and the opportunity to serve you.