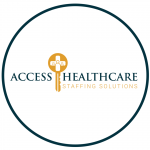 Website access_staffing Access Healthcare Staffing Solutions
Full Time position for CRNA in SW Missouri.
Shifts rotate 2 weeks of 4 10-hour shifts, followed by 1 week of 12/hr shifts.
$210,000 W2
6 weeks vacation + the extra days off
Full Benefits
No call!!
Gen cases, B&B, endo, healthy peds
Supervision but Anesthesiologists allow for freedom and help move cases along.
Please call, text or email for more information.